Dryer Vent Cleaning in Chicago, IL – Are Your Dryer Vents Clean? Do You Know the Dangers Associated with Dryer Vents Not Cleaned Regularly?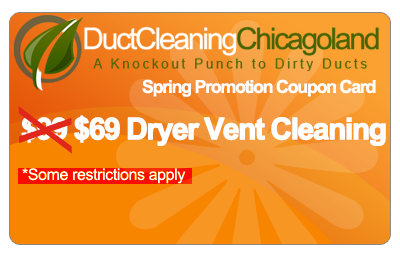 If you are not sure of the answers to these questions, we can help you!
At Duct Cleaning Chicagoland, we know how important it is to keep dryer vents clean and functioning properly. By enlisting our assistance with dryer vent cleaning Chicago; you can avoid the potential risk of fires that could cause extensive damage to your home, or business.
Just the Facts:
In order to keep your residential or commercial dryers functioning properly, it is important to perform regular maintenance on the dryer vents. A periodical dryer vent cleaning and its ductwork help prevent, or drastically reduce the risk of a fire.
In 1998, according to the U.S. Consumer Product Safety Commission, there were approximately 15,600 fired that resulted in 20 deaths and 370 injuries. These fires were directly associated with clothes dryers.
When the lint trap, or dryer vent, and the accompanying ductwork for the exhaust is not cleaned regularly the risks of fire can increase. The lint that is trapped in any of these areas, when it builds up, can block the flow of air. Fires can result from the excessive heat build-up in these clogged areas of your commercial or residential clothes dryers.
With the very real risk for potential fires, our team at Duct Cleaning Chicagoland wants you to be informed on the most common causes of dryer vent fires. These include the following:
 Improper installation resulting in insufficient airflow
Mechanical and/or electrical dryer parts failure
Improper placement of items in the dryer
Now that you are informed on some of the common causes for dryer vent fires, it is important that you be armed with a few simple solutions…
A Checklist for Dryer Vent Fire Prevention:
Only use dryer vent systems that are up-to-code with your dryer manufacturer, city, and state
Install semi-rigid or solid metal venting to ensure proper airflow. Existing plastic or foil vents should be replaced
Only operate the dryer with a lint filter
Before and after every use, clean the lint trays and screens
Remove lint that has accumulated around the drum
Remove lint from the vent pipe
Lint screens should be washed every few weeks to remove fabric softener residue
Remove any obstructions to the outdoor vent flap such as bushes, snow, or other materials
Ensure the exhaust vent pipe isn't restricted and the outdoor vent flap is opening properly
Ensure your dryer is properly grounded and only the correct plug and outlet are used
Dryers should be kept in properly functioning condition; a professional should examine all gas dryers to ensure the gas line connection is free of leaks and intact
Never overload a washing machine or clothes dryer
Operate the dryer according to the manufacturer's instructions
Keep combustible chemicals, such as cleaning and paint products, away from dryers
Items that have come in contact with combustible items, such as alcohol, paint thinner, gasoline, cooking oil, etc. should never be placed in the dryer
Keep the area near the dryer free of items that could potentially catch fire, such as boxes or clothing
Only run the dryer when home and awake
Overheating caused by reduced airflow and lint build-up can affect your dryer's efficiency. The safety switches continuously cycle on and off, when this occurs, and over time can fail. Not only will this lead to higher operation costs but it could also lead to an expensive and dangerous fire.
To ensure the safety of your dryer, our skilled specialists, clean your dryer vent ductwork utilizing specialized tools and procedures.
Our specialists want you to be aware that if any advanced warning signs are present, you should call for a professional dryer vent cleaning Chicago and/or an inspection at your earliest possible convenience. Signs to look for include:
When the dryer is on, the flapper on the vent hood does not open
Clothes removed from the dryer at the end of the cycle are hotter than normal
Clothes (specifically jeans or towels) taking multiple or longer cycles to dry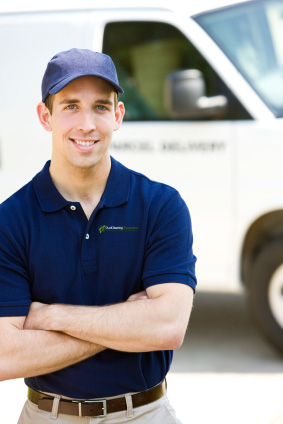 Why Choose Our Technicians?
When you discover a potential problem with your dryer vent and ductwork, you don't want to risk your property and your family through improper maintenance and repairs. At Duct Cleaning Chicagoland our technicians are trained in all of the proper procedures for cleaning and repairing your dryer vent and ductwork.
We strive to provide you with the absolute best customer service related to all of your residential and commercial ductwork needs.
When our technicians come out to examine your dryer vent and ductwork we have a checklist of items we look for which include:
A minimum diameter of 4 inches for dryer duct and as big as the dryer outlet
The use of rigid metal (aluminum or galvanized) for concealed ducts
Metal tape used to secure all duct joints, absolutely no rivets or screws
Install joints so the pipe connections point in the direction of airflow; away from the dryer
Dryer vents ductwork needs to terminate outdoors and be independent to any other systems. Dryer exhaust should not vent into other vents or a chimney.
The exterior dryer vent hood have a back draft damper
Connectors used between the dryer and the duct should be flexible metal. It is not recommended to use plastic
Confirmation of intact rodent and bird screen protection
If you have any questions or concerns related to dryer vent cleaning Chicago, contact our professional technicians at Duct Cleaning Chicagoland. We will provide you with all of the services you need at the most competitive prices in the industry.
Testimonials
If you have any doubts about our competence in dryer vent cleaning Chicago, take a look at some of the feedback we've received from past clients. These are genuine people with genuine stories and they all are complimenting us on our hard work.

30-Day RISK FREE GUARANTEE

Don't waste any time and book our services right away. Not only do you get the expertise of a team of highly trained and qualified technicians, you are also backed by our absolutely solid, iron-clad,
30-Day RISK FREE GUARANTEE
.
With our team, you can always count on old-fashioned work ethics that leads to 100% customer satisfaction.
Book an online appointment and we will reward your initiative with a 10% discount!
Or if you prefer, give us a call at (847) 457-4856
Duct Cleaning Chicagoland
1629 W Columbia Ave #2W Chicago, IL 60626
Phone: (847) 457-4856